Summer Sings are BACK!
Like to sing? Then you'll love eVoco's 2023 Summer Sings!
Each evening is friendly, fun, and full of beautiful music – and, of course, we have snacks.
Tickets* are $15 general/$10 students, available at the door
Both hardcopy and digital scores (bring your own device!) will be available
All proceeds go directly toward supporting the mission of the eVoco Voice Collective
Each night we start with a light – and brief – rehearsal, break for snacks and conversation, and end with a mini "performance" of the evening's repertoire. If you have friends who don't want to sing but would like to join they are very much also welcome (we just ask that they also pay for a ticket).
This summer we'll be hosting two Summer Sings on the campus of Hofstra University:
Wednesday, July 26 @7pm
Sing some of our most beautiful and beloved octavos from our first ten years. We've chosen ten delicious pieces, one from each year of our first decade of singing, including Barnum's "Sweetheart of the Sun, Stanford's "The Blue Bird," Henson's "My Flight for Heaven," Hogan's "Abide with Me," and more. Join us!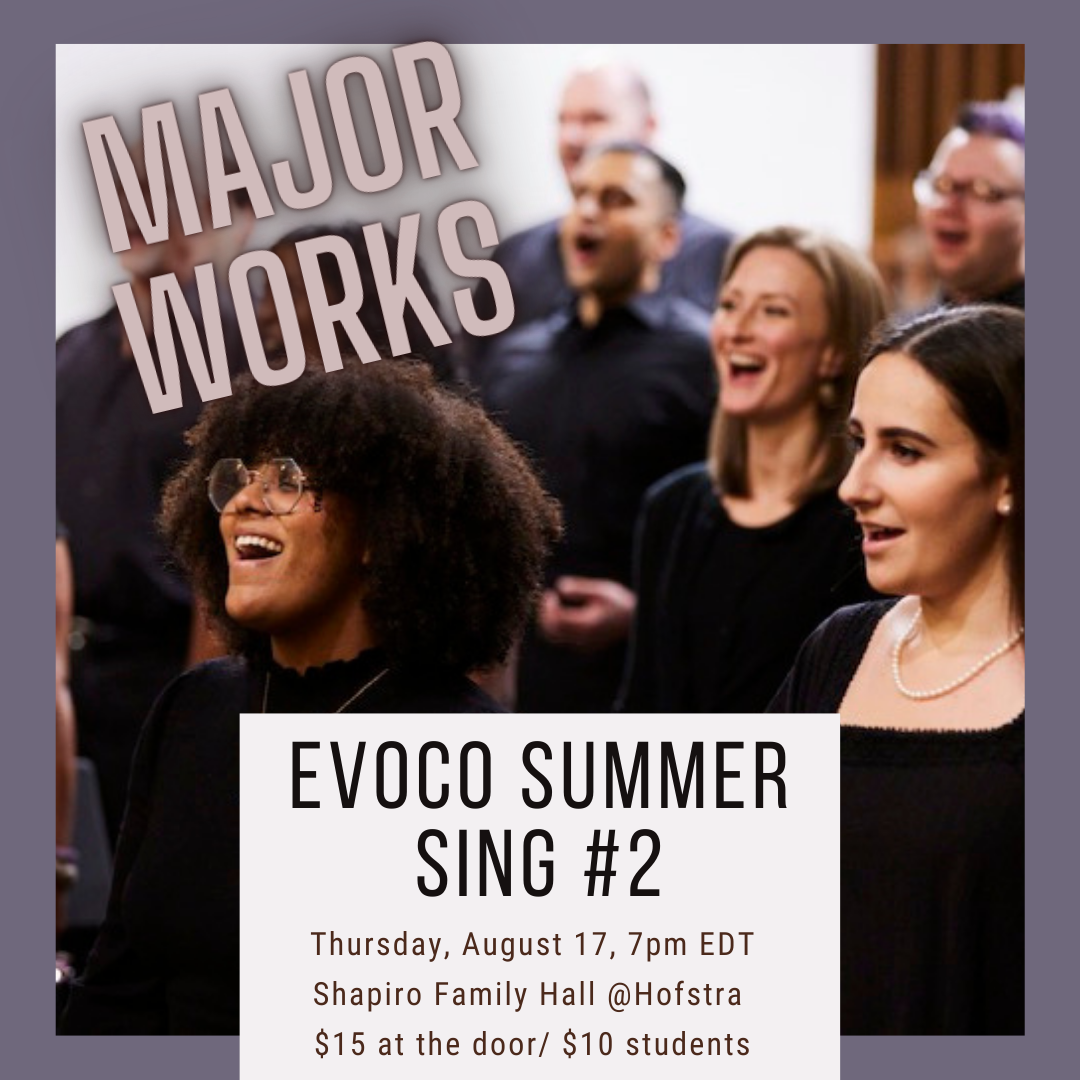 Thursday, August 17 @7pm
Dig into selected movements from some of our favorite major works from the last decade, including both Brahms' and Howell's Requiems, Dove's The Passing of the Year, Britten's Rejoice in the Lamb, Rachmaninoff's All Night Vigil, Bernstein's Chichester Psalms, and Lauridsen's Mid-Winter Songs.
Get Ready to Sing
Cue up the eVoco Spotify Summer Sing Playlist and listen to all 8 selections we'll be singing together, sung by eVoco in concert!
Summer sings are located in Hofstra's Shapiro Family Hall. No need to let us know in advance; just join us in our regular rehearsal space, room 010 in the lower level of Shapiro Hall. Tickets and scores available at the door.