Miles Massicotte
Pianist Miles Massicotte has been hailed as a "truly extraordinary" artist showing "a dazzling display of pianistic prowess" (The News-Times). Born in 1990, he began studying piano at the age of 10, and gave his first public performances shortly thereafter. He enjoys a diverse musical career that began in his native Connecticut and has taken him across the United States and abroad, where he has been featured variously as a recitalist, a soloist with orchestras, a chamber musician, as well as a composer and improviser.
Miles was the winner of the 2011 James Furman Memorial Competition, and is additionally the recipient of over 15 scholarships and awards. He has been a featured student in a number of masterclass with renowned pianists such as Peter Frankl, Yves Henry, and Angela Cheng.
As a soloist and guest artist he has been invited to perform in venues such as the Veronica Hagman Concert Hall, Ives Concert Hall, and Infinity Hall, among many others. As a chamber musician he has performed in virtually every conceivable capacity, from duos to large contemporary ensembles, both throughout the United States as well as internationally.
As a young jazz musician, Miles was the recipient of the Louis Armstrong Award. He has gone on to perform on stage alongside jazz greats such as John Scofield, Dave Liebman, and Vic Juris. His original compositions in this genre have been noted for their  "suite-like shifts" and their "amazing vibrancy and chordal modalities" (Hartford Courant).
Miles' initial musical education came at the Greater Hartford Academy of the Arts, and upon graduating he had twice received the Academy's "Most Outstanding Classical Instrumentalist" award (2006, 2008). He continued his studies at Western Connecticut State University, where he studied with Russell Hirshfield and Patricia Lutnes, receiving the institution's "Music Chair" award in his final year (2012). Miles is now pursuing a Doctorate of Musical Arts at Stony Brook University, under the tutelage of Gilbert Kalish, where he also works as a teaching assistant. He will perform the Piano Concerto no. 3 of Rachmaninoff there as the winner of Stony Brook's 2016 Concerto Competition.
George Hemcher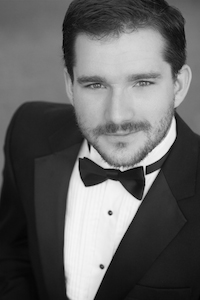 George Hemcher (pianist emeritus) served as pianist for the first four eVoco seasons. He is currently the Education and Music Administration Assistant & Assistant Conductor for the Sarasota Youth Opera Program. Before taking this post, he served as the music director of the opera scenes programs at Hofstra University. A native of Frazer, Pennsylvania, Mr. Hemcher has worked at Delaware Valley Opera (DVO), where he was a répétiteur for Otello and Die Entführung aus dem Serail.
George made his conducting debut in the 2012 DVO production of Kiss Me Kate and in 2013 was the music director for Mozart's Der Shauspieldirektor. He has also played for Opera Repertoire Ensemble at Manhattan School of Music for productions of Lucia di Lammermoor, Faust, and Hânsel und Gretel.
George holds an undergraduate degree in music merchandising from Hofstra University and a Master of Music degree in piano accompanying from Manhattan School of Music.